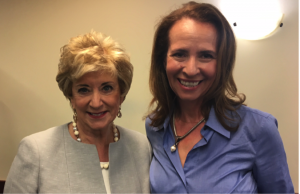 DPI was highlighted as an outstanding small business in the Washington DC metro-area and an example of a company that is making investments as a result of the Tax Cuts and Jobs Act Congress passed late last year. McMahon said she has heard from many small businesses nationwide that they have more customers and more revenue because of the tax cuts, and as a result now are able to expand and hire more employees.
"Ms. McMahon's remarks were inspirational; she provided examples of her own experience as an entrepreneur and told the stories of many small companies she has met during her outreach," said Andrea Stone CEO at DPI. "She provides a strong role model to entrepreneurs and is committed to continue enhancing SBA resources to support growth and continued small business optimism."
About DPI:
Dynamic Pro, Inc. (DPI) is a consulting firm with strong focus in management consulting, technology, and business services. We offer a multidisciplinary team that builds relationships, delivers quality products, and represents the client's best interest. DPI's approach addresses the three dimensions of change: People, Process, and Technology. We offer a comprehensive toolkit of approaches to help clients adapt to rapid changes in their mission environments. Our approach to program management helps high performing organizations integrate planning, implementation, and control activities. Learn more at https://www.ivyexec.com/company-profile/dynamic- pro-inc- careers.