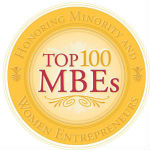 September 26, 2016 – The Capital Region Minority Supplier Development Council (CRMSDC) recently named Andrea Stone, CEO of Dynamic Pro, Inc. (DPI), as a 2016 Top 100 MBE winner. This award recognizes owners of minority business enterprises in Maryland, Virginia, and the District of Columbia who have demonstrated exceptional entrepreneurial accomplishments, a high level of professionalism, and who have made substantial contributions to their community.
This year, for the first time, CRMSDC is combining their MBE awards ceremony with their annual awards. The Top 100 MBE awards will be presented at CRMSDC's 35th Annual Leaders and Legends Awards Ceremony on September 30th. The event will be held at the Tara Smith Center for Performing Arts at 5:30 p.m.
"It is an honor to be recognized as one of the region's Top 100 minority businesses," said Andrea Stone. "I value the opportunity to be a role model for other women and minorities who aspire to be entrepreneurs. This award is the result of our employees' excellence and dedication. DPI is thrilled to be part of the CRMSDC community."
Sharon R. Pinder, CRMSDC's President and CEO, said, "Our board of directors and our corporate members congratulate the 2016 Top 100 MBEs on their stellar accomplishments. We are appreciative of their contributions to our region's economic engine."
CRMSDC was established in 1972. It is one of 23 regional affiliates of the National Minority Supplier Development Council (NMSDC), the only nationally recognized MBE certifying authority. CRMSDC is headquartered in Silver Spring, Maryland. 
About DPI
Dynamic Pro, Inc. (DPI) is a consulting firm with strong focus in management consulting, technology, and business services. We define strategies that allow our clients to react quickly to challenges and monitor performance efficiently, and we provide the responsiveness necessary to deliver the best quality product. DPI's approach addresses the three dimensions of change: People, Process, and Technology. We offer a comprehensive toolkit of approaches to help clients adapt to rapid changes in their mission environments. Adapting to change often requires more efficient processes, better governance structures, and renewed emphasis on accountability and results.