Under Secretary for the National Protection and Programs Directorate (NPPD) Suzanne E. Spaulding received the Government and Technology Services Coalition GTSC for Most Valuable Player for Cyber Security during the 2015 Holiday party. The award was presented by Chief Executive Officer for Dynamic Pro Inc., Ms. Andrea Stone. Ms. Spauld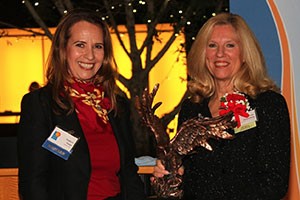 ing received the award for her clear vision on how to better leverage existing data, and open source tools while reinforcing NPPD's critical mission and purpose. Since NPPD's establishment in 2007, it has been dedicated to increasing the security and resiliency of the nation's cyber and physical infrastructure against all possible threats by working with operators at the Federal, State and local level. Ms. Spaulding oversees the office of Biometric Identity Management, Cyber and Infrastructure Analysis, Cybersecurity and Communications, Infrastructure Protection, and the Federal Protective Service.
DPI's Chief Executive Officer Andrea Stone stated, "This program, its mission and critical operations are central to the national security of each of our citizens in this country. The leadership shown by Ms. Spaulding and her staff are inspiring to all of us in the federal industry".
 About DPI
Dynamic Pro, Inc. (DPI) is a consulting firm with strong focus in management consulting, technology, and business services. We offer a multidisciplinary team that builds relationships, delivers quality products, and represents the client's best interest. DPI's approach addresses the three dimensions of change: People, Process, and Technology. We offer a comprehensive toolkit of approaches to help clients adapt to rapid changes in their mission environments. Our approach to program management helps high performing organizations integrate planning, implementation, and control activities.